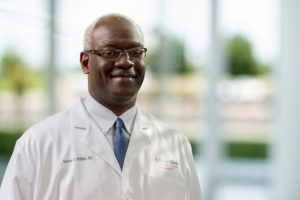 Epsilon Iota Boulé – Dr. Preston J. Phillips Scholarship Fund
The mission of the Epsilon Iota Boulé – Dr. Preston J. Phillips Scholarship Fund is to honor the legacy of Dr. Preston J. Phillips who we lost to a senseless act of violence on June 1, 2022. The Scholarship Fund will enhance educational opportunities through scholarship and mentorship, for racial and ethnic minority high school students from the Greater Tulsa Area seeking to attend institutions of higher learning. A particular emphasis will be placed on the cultivation, of the yet-to-be fully realized potential of racial and ethnic minority students.
We seek to honor the achievements of Dr. Phillips, a renowned orthopedic surgeon, and those of scholars in our communities. However, we also want to reach out to those individuals who are "late bloomers" but on the upward slope of academic discovery. In addition to the scholarship, the recipients may also participate in the career mentoring program of Epsilon Iota Boulé of Sigma Pi Phi Fraternity.
Born September 11th, 1962, Dr. Phillips became a renowned orthopedic surgeon and specialized in spine disorders, joint reconstruction, joint replacement, treatment of fractures, and surgical procedures. He graduated from Harvard Medical School in 1990 and completed his residency at Yale-New Haven Hospital. Archon Phillips earned advanced degrees in organic chemistry, pharmacology, and theology from Emory University in Atlanta. He completed two fellowships at Boston's Beth Israel Deaconess Medical Center (BIDMC).  Most recently he served as Section Chief at the Warren Clinic and as an orthopedic surgeon at Saint Francis Health System in Tulsa, Oklahoma.
Dr. Phillips was an exceptional human being who embodied excellence. He is remembered for his superior expertise, kindness, and professionalism. Described as a consummate gentleman and a man that we should all strive to emulate, Dr. Phillips demonstrated an extraordinary level of devotion to his patients and a belief that his work as a physician was not just his job but his calling in life. He served on many boards of directors, including the John Hope Franklin Center for Reconciliation in the Historic Greenwood District of Tulsa, and often traveled to Togo, Africa, on medical mission trips to build clinics and hospitals, practice medicine, and deliver supplies to those desperately in need. An avid tennis player, Dr. Phillips was well known as a fierce competitor, with a gentle spirit on tennis courts across Tulsa.
Dr. Phillips was a lifelong advocate for student success and worked tirelessly to develop the scholarship fund that Epsilon Iota Boulé of Sigma Pi Phi Fraternity has now renamed in his honor.
---
Scholarship Eligibility Requirements: Applicants must have a cumulative GPA of 3.0 and if awarded, maintain a 3.0 GPA in their respective post-secondary education institution to receive the subsequent year's award. The application cycle will open in Winter/Spring 2023.
Phillips Scholars
– Scholars must attend a four-year college or university.
– Scholars will be selected annually and awarded $2,500 per year, renewable for four years.
---
HOW TO DONATE
Check: Donations by check should be made payable to Tulsa Community Foundation and include "Epsilon Iota Boulé – Dr. Preston J. Phillips Scholarship Fund" in the memo of the check. Mail checks to Tulsa Community Foundation, 7030 S. Yale Ave., Suite 600, Tulsa, Okla., 74136.  All donations are tax-deductible to the fullest extent allowed by law.
Online: Donations can be made securely online by clicking below.